Home
>
News Center
>
News
News & Events
Taiwan-Japan Cooperation in Information Service Industry, SYSCOM Gains Another Victory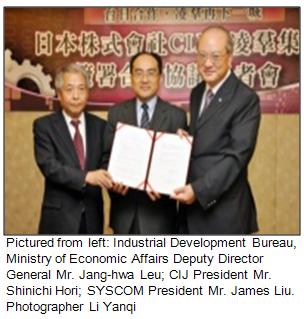 [2013/8/15] 8/15/2013 ■ By Li Yanqi

SYSCOM gains another victory in Taiwan-Japan cooperation. After launching CloudMaster, their joint-venture, in April with Tokai Group, SYSCOM Computer, on August 15, held a press conference announcing a cooperation agreement with CIJ.

Under the agreement, CIJ outsources its product and project development to the SYSCOM Group along with product marketing and service for the China and Southeast Asia markets. In turn, SYSCOM markets its products through CIJ's marketing channel in Japan. Cooperation will be gradually expanded in the future.

CIJ, principally engaging in systems development and services, was founded in 1976 and a publicly listed company in Japan. Their core products and services include SONOBA COMET, a tablet terminal paperless conference system which uses SYSCOM's DBMaster database; Ofigo, document management and Contract Management System; FAX Server System, a green FAX system; and migration services, a multi-lingual and multi-environment migration solution. CIJ serves customers from many sectors including financial services, insurance, government, healthcare and manufacturing. Annual revenue is approximately 15.7 billion Japanese yen (about 5 billion NTD) which is comparable to that of SYSCOM Group.

SYSCOM President Mr. James Liu explained the new cooperation agreement is primarily based on SYSCOM's good experience with CIJ's marketing of the SYSCOM developed DBMaster database products in the Japanese market. Under the agreement, CIJ outsources product development, solution development, and other project development to the SYSCOM Group. The companies estimate that by 2016 CIJ will be outsourcing 20% of its annual system development business, valued at 1.2 billion Japanese yen. Using joint marketing channels with SYSCOM, CIJ plans to enter markets in Taiwan, China, and Southeast Asia.

CIJ Group President Mr. Shinichi Hori pointed out that CIJ decided to further work with SYSCOM because of his company's over-10-year experience with SYSCOM and because of the Ministry of Economic Affairs' promotion of the New Golden Triangle cooperation model.

At the press conference, CISA Senior Director Ms. Yu Weizhen, presented several "Taiwan-Japan Information Industrial Cooperation" success stories then described execution results from the past several years for the Industrial Development Bureau, Ministry of Economic Affairs' Software Quality Enhancement Program.