Home
>
News Center
>
News
News & Events
Taiwan-Japan Cooperation in the New Millennium — CloudMaster Grand Opening
[2013/4/24] TAIPEI, TAIWAN, APRIL 24 — CloudMaster Co., Ltd. was established following the joint SYSCOM Computer and Tokai Group announcement in February and has generated tremendous positive response in Taiwan and Japan. On April 24, 2013 the Industrial Development Bureau of Taiwan's Ministry of Economic Affairs, the Information Service Industry Association of R.O.C. (CISA), the Institute for Information Industry (III), the Formosan Cloud Association, and the Japan Exchange Association attended CloudMaster's grand opening event.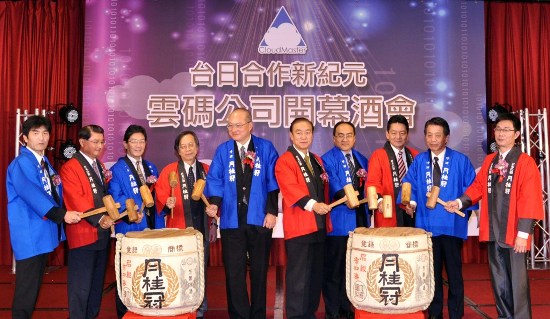 (Pictured from Left) CloudMaster Co., Ltd. Opening Ceremony Launch Party on April 24, 2013 was officiated by the SYSCOM Group's General Manager Mr. James Liu, the Tokai Group's President Mr. Katsuhiko Tokita, the Institute for Information Industry's Chairman Dr. Jin-Fu Chang, and the Ministry of Economic Affairs Industrial Development Bureau's Deputy Director General Mr. Ching-Chung Lien, Japan Interchange Association's Vice President Yusuke Sami, Taiwan Cloud Computing Association's President Mr. Richard Lee,?CloudMaster's President Mr. Joseph Lin, CloudMaster's General Manager Mr. Masanori Minamoto, Tokai Cable Network's President Mr. Yasuhiro Fukuda
CloudMaster was established jointly by Taiwan's SYSCOM Group and the Japan-based Tokai Group. CloudMaster, based in Taiwan, leverages strengths from each of its founding companies as it promotes Taiwan-Japan business using what a cooperation model the companies call the New Golden Triangle. CloudMaster is a major achievement and milestone in Taiwan-Japan software industry cooperation. Government efforts also continue to promote this cooperation within industry.
CloudMaster hits the ground running with competitive advantages drawing on CMMI-Level 5 product development experience from SYSCOM and infrastructure and Internet data center (IDC) management experience from TOKAI-COM as well as that company's IDC alliance group in Japan. CloudMaster will satisfy the IT needs of enterprises in Japan, Taiwan, and China by providing cloud, medical information systems, electronic data transactions, and system integration services among others. CloudMaster plans to handle software distribution by selling software licenses to TOKAI-COM which will then resell and distribute products throughout Japan using hosted cloud services. CloudMaster's second distribution model used the IDC data center alliance members' relationships with Japan companies. These distribution strategies will get top quality Taiwan IT into the Japanese market. TOKAI-COM will give 20% of Tokai Group's internal systems development business to CloudMaster. SYSCOM and Tokai Group are both optimistic that CloudMaster's 2017 revenue will reach 1 billion yen.
CloudMaster is the first heavyweight service using the III's Cloud System Institute CAFE-Enterprise Cloud Server which earned the World Information Technology & Services Alliance's "Global ICT Excellence Award" in recognition for outstanding achievement in the communications industry. CloudMaster will provide private cloud services based on the CAFE architecture to enterprises in the Japanese market. Japanese companies are showing a high-level of interest in these cloud services.
Given the global economic downturn, increased international alliances and continued support from government incentives will ensure CloudMaster meets new market needs and creates a new wave of industry growth and momentum by establishing new markets and a new supply chain in the very difficult to enter Japanese arena.
CloudMaster Co. Ltd. Public Relations Contact: Mr. Lin, Phone +886 02-2311-8191 ext. 2651