Home
>
News Center
>
News
News & Events
SYSCOM and Hitachi Solutions Cooperating on Personal Information Security Solution Marketing in Taiwan
[2011/11/23]

[Digitimes Times]

By Miranda Chuang/In 2006 SYSCOM first achieved CMMI-SW ML5 and then in July 2011 they passed reappraisal. With this advantage SYSCOM and Japan's Hitachi Solutions are cooperating to introduce HIBUN to the Taiwan market and later to create a hub for the Chinese market. The plans are timed to meet potential demand for personal information security solutions.

Mr. Robin Chiu, Director of SYSCOM's Software Business Group, explained how Japanese companies have for a long time struggled to enter the Chinese market and often their attempts end in failure and losses. Chiu said, in the past five years these Japanese software developers, with their mature technology and skills, have been hunting for partners to reduce costs yet maintain high quality as they seek to reenter the Chinese market. Some of these software companies are now working with Taiwan software vendors — tapping into their export experience.

SYSCOM began cooperating on this security solution because most Taiwan companies need to integrate their existing systems, like ERP, with security solutions, said Chiu. He added that the highly complex process means these companies are looking to keep things simple when possible by deploying a single encryption product and without changing existing business processes.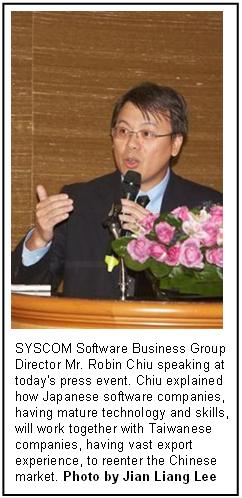 >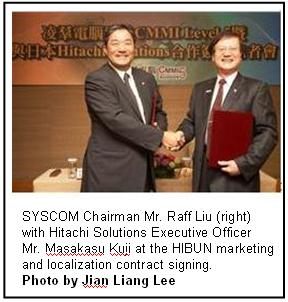 >
SYSCOM President Mr. James Liu described his company's total solution for information security as including three components: PIMS, HIBUN, and DLP. Hitachi Solutions HIBUN dominates the Japanese security solutions market with an over 50% market share, President James Liu added. He stressed that cooperation with Hitachi Solutions is not just marketing but also technology exchanges. The companies will begin their partnership in Taiwan and then continue into the mainland.
Revised personal information protection laws in Taiwan will soon provide SYSCOM with sales opportunities for security solutions. SYSCOM plans to focus first on the top 5% of users, including government, national defense, and large-scale finance holding companies. HIBUN licenses will be sold by number of users. We can expect significant market demand at the end of 2011.
Hitachi Solutions said that when Japan's personal information protection laws were enacted in 2005, banks and finance holding companies were first movers to implement this type of solution. About three to five years later other companies began their own implementations.
As the Internet grew, more companies were responsible, by law, to protect data and this prompted widespread deployment of HIBUN.
Since the third quarter of 2011 Taiwan's information industry has suffered from the global economic recession. By focusing on research and development SYSCOM continues to win government contracts and has felt little impact from the downturn.
In 2011 and 2012 SYSCOM's primary business direction will be cross straight project cooperation, cloud computing, and personal information security solutions. SYSCOM is also doing well in other China markets like stock exchange, securities, banking, and high-tech manufacturing. In 2012 they will continue expanding their presence in China's healthcare market.