Home
>
News Center
>
News
News & Events
SYSCOM Reappraised at CMMI ML5 Begins Personal Information Security Solution Marketing & Localization with Hitachi Solutions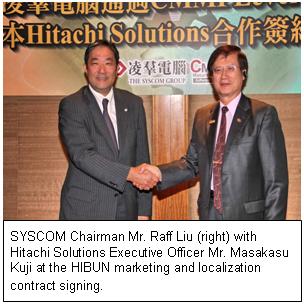 [2011/11/29] Since 2005, the Taiwan Industrial Development Bureau (IDB) has sponsored a government backed Capability Maturity Model Integrated (CMMI) appraisal program and in cooperation with CISA urged local software developers to embrace CMMI for enhancing software quality and management capability to better compete globally. In 2009, IDB began expanding their international business exchange activities in an effort to gradually improve how international players trust and view the quality of software developed in Taiwan. Under the IDB program, SYSCOM was first to achieve CMMI-SW ML5 in 2006 and in July 2011 the company passed CMMI-DEV ML5 reappraisal making them Taiwan's only company to reach this highest CMMI level. At an October 2011 event in Yokohama, Japan, sponsored by IDB and hosted by the Information Service Industry Association of Chinese Taipei (CISA), SYSCOM and Hitachi Solutions signed a memorandum of understanding for cooperative marketing and Chinese localization of the personal information security software HIBUN.

The Software Engineering Institute (SEI) has continuously raised CMMI's quality bar ensuring that software development processes and management are meeting that standard's goal of optimization and continuous improvement. CMMI is the internationally recognized software quality appraisal standard. SEI refined the CMMI development schedule and quality control rules to enhance precision in those two areas. For its part, to ensure the accuracy of data entry and analysis, from massive data projects to fine grain details, SYSCOM developed Software Development Process Master (SDPM)1 and SYSCOM Customer Portal (SCP)2. For use with system development, these tools offer text and graphic data analysis by role and stage, and were a critical part of our reappraisal process. Impressed during the final stage of appraisal, the lead CMMI appraiser remarked how SYSCOM had provided the most detailed quantitative analysis results he had yet seen.

5,346 companies around the globe are CMMI appraised with only 7% having achieved the most difficult ML5. In Taiwan, 158 organizations are CMMI appraised with SYSCOM being the only at CMMI-DEV ML5. Continuous resource investment and determination allow SYSCOM to meet this demanding goal of high software quality and ever improving international competitiveness.

After CMMI-DEV ML5 reappraisal, SYSCOM began working with Hitachi Solutions of Japan on marketing and Chinese localization of their personal information security solution named HIBUN. Taiwan's revised personal information protection laws are set to take effect next year with possible penalties including large fines and jail time. This certainly opens the potential for generating tremendous demand of personal information security solutions. These revised laws are similar to those enacted in the U.K. and Japan. Additionally, Japan's personal information security solutions are both mature and highly versatile. For these reasons, SYSCOM began working with Hitachi Solutions more than a year ago. Recognizing our CMMI ML5 appraisal and software quality improvement efforts, Hitachi Solutions chose the HIBUN product to begin their SYSCOM partnership. Currently holding over 50% market share in Japan's information security solutions market, HIBUN completes SYSCOM's information security solutions product line while strengthening our international competitiveness. Scheduled for release in the first half of 2012, the Chinese localized HIBUN will likely be as successful in Taiwan as in Japan.

About Hitachi Solutions, Ltd.

Established in 1970 as Hitachi Group's software engineering arm, Hitachi Solutions merged in 2010 with System Service, another Hitachi Group subsidiary. The two now form today's Hitachi Solutions, Ltd. Valued at 38,372 million Japanese Yen and with 10,387 employees, Hitachi Solutions services include technology consulting, system development, system operation and maintenance, product sales, and post-sales service. Products cover IT management, system development and operation management, information security, ERP, and solutions for finance, manufacturing, logistics, transportation, communications, non-profits, government, healthcare, and agriculture sectors.

Hitachi Solutions 1,500 security certified professional employees and over 100 consultants provide information security consulting, network security, server security, and client-side security services. Hitachi Solutions and SYSCOM have begun cooperating on HIBUN. Hitachi Solutions HIBUN is widely deployed in Japan's financial sector including 207 companies and Japanese post offices giving this client-side encryption/decryption solution a 50% market share.

Hitachi HIBUN Solution

HIBUN is a client-side encryption and decryption solution developed by Hitachi Solutions. Since Japan's personal information protection laws were enacted in 2005, HIBUN sales have grown each year now reaching a 50% market share in Japan's encryption solution market.

HIBUN's primary function is data leaking prevention using encryption. Even when an employee's computer is lost or stolen, data within the computer cannot be accessed. Additionally, HIBUN can require data encryption prior to files being transmitted or copied along with logging file transmissions. These features satisfy the information security demands of corporations.

Easy deployment is a HIBUN cornerstone. Its client-server design is easy to install and requires few computing resources. Once deployed, users are unaware of HIBUN's operation. Time and resources needed to manage HIBUN are less than competing products making HIBUN the best choice for client-side data protection.

Notes

1 Software Development Process Master (SDPM), the SYSCOM CMMI-support management platform helps organizations best deploy CMMI. SDPM includes four modules: organization profile, project management, time management, and problem tracking and management. Together these modules support SDPM's project development data system including data collection, analysis and quantitative report generation. Reports include schedules, work hours, costs, and defects. Project members, managers, and executives all have easy access to these results for critical policy decisions.

2 SYSCOM Customer Portal (SCP) is a key project management tool for customers to monitor project status. By linking SCP and SDPM data, customers enjoy online monitoring of schedules, quality management, quantitative analysis, reporting, access to project documents, and management of action items.