Home
>
News Center
>
News
News & Events
Strong Sales for Syscom's Intelligent Service Robot Ayuda Japan City Hall Guided Tour Launched in April
[2021/4/14] Ayuda, the smart service robot developed by Syscom, won the 2021 Taiwan Excellence Silver Award. Now we are working with the System Integration Promotion Alliance Project Office (SIPA) as the Industrial Bureau's Systems Integration flagship team. Our marketing efforts in Japan have been successful and there's more good news from our Japanese partner CIJ. In April 2021, Ayuda will begin providing guided tours at the Fujisawa City Hall, in Japan's Kanagawa Prefecture.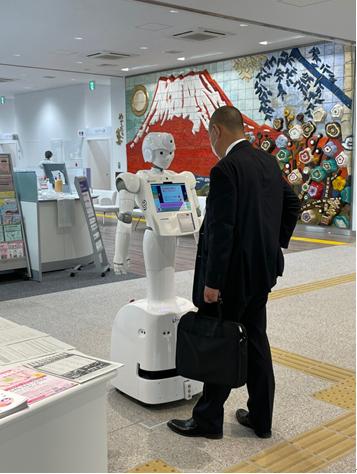 PHOTO CAPTION: Since April, Ayuda has been providing guidance services at
Fujisawa City Hall in the Kanagawa Prefecture.
Syscom's Ayuda is Made In Taiwan (MIT) and equipped with facial recognition developed by CyberLink Technology. Ayuda includes more technology, like its mobile platform, human form detection, voice recognition, voice conversation, video and self-learning map navigation and other functions. At 160 cm tall, people feel at ease interacting with Ayuda. Starting with Fujisawa City Hall, Ayuda will collect data as demonstration experiments are carried out. As Ayuda's data set grows, it's able to provide even more powerful services.
In Japan's Kanagawa Prefecture, twelve towns have been designated as "ROBOT TOWN SAGAMI," and Fujisawa City is one of them. It's a commitment to popularize and make practical the application of life-assisting robots to cope with problems like population decline and an aging society. The service-type features of Syscom's Ayuda robots are a good match for the city. Since 2020, the Fujisawa City Government has conducted several demonstration experiments with Ayuda robots to verify the possibility of replacing the city government's human guides. It's also a response to the national government's "Super City" campaign. Realizing the popularization of robots, the Fujisawa City Government quickly decided to introduce Ayuda. CIJ, Syscom's Japanese partner, is preparing for the official announcement of Ayuda robots in Japan. With the introduction and application of Ayuda by the Fujisawa City Government, the joint cooperation between CIJ and Syscom will further promote the coexistence of humans and robots in Japanese society.
For more product information, please refer to the product website:
https://syscomgo.com/products/ayuda/
Ayuda product contact: Mr. Lee
TEL: (02) 2191-6066 extension 8870
EMAIL: Nero_Lee@syscom.com.tw
Syscom Computer News Contact: Ms. Yang
TEL: (02) 2191-6066 extension 8044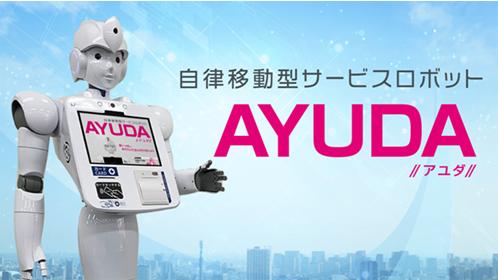 About Ayuda
The innovative intelligent service robot Ayuda is entirely Made In Taiwan (MIT) and strives to reduce costs while being an environment friendly green energy product. It supports customized software and hardware design requests and human factor engineering design. Ayuda makes many operations more convenient and this has helped it win many awards, such as: the 2017 "Cloud IoT Innovative Application Award-Champion of Enterprise Group," the 2018 champion "System Integration Export Award" and the 2021 Silver Award for "Taiwan Excellence Award." Service areas include: police, finance, medical care, libraries, schools, retail, and more. Recently, Syscom has had a successful partnership with CIJ Co., Ltd. of Japan, selling Ayuda in the Japanese market.
About CIJ Co., Ltd.
CIJ Corporation Headquarters: Yokohama City, Kanagawa Prefecture Representative Director and President: Akahiko Sakamoto CIJ Co., Ltd. was established in 1976 and is a Japanese listed company. Their primary business is system development and related services. CIJ's services cover a wide range of fields such as government agencies, finance, communications, manufacturing and telecommunications. Their capitalization is about 2.2 billion Yen (approximately NT$821 million), which is similar in scale to Syscom Computer.