Home
>
News Center
>
News
News & Events
Microsoft Virtualization Streamlines Next-Generation Criminal Investigation-SYSCOM wins customer praise with Microsoft Virtualization Solution
[2012/2/17]
Background & Challenges
During the past 10 years, the customer developed several systems to improve their capabilities for preventing high-tech crimes. These legacy systems challenged the customer in many ways: management, client-access and resource tasks. Therefore, the customer started considering a new generation platform what would integrate existing applications using mature technologies like virtualization and cloud-base designs.
New System Goals
The goal of new application design is to implement all of their business functions from the exiting systems with a new unified cross-analysis platform (Figure 1). As the customer's long-term IT solution partner, SYSCOM's depth of experience with Microsoft Hyper-V technology and our solid understanding of the customer's needs allowed us to develop their new platform for solving both today's problems and future IT infrastructure challenges.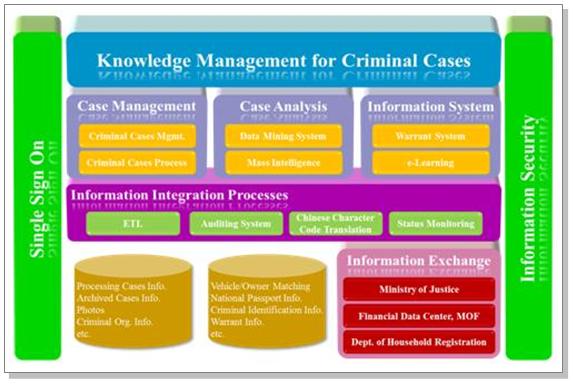 Figure 1: System Architecture
New System Design
The platform consists of 11 systems developed based on .Net solution, and requires 27 servers under RD design. Traditionally, the platform needs at least 27 rack-mount servers to carry the application requirements, but no need now. As we know, the usage of computing and memory usually does not reach over 20% and 50%, that means hardware resources could be use more effectively.
The technology of Server Virtualization just focuses on solving former resources waste issue. SYSCOM series faces the issue and consults the Microsoft Hyper-V implementation with System Center Management to provide a unified, dynamic, expandable, easy-management and cloud-ready server infrastructure. Except servers for System Center Suite, SYSCOM propose 10 physical blade servers within Windows Server 2008 R2 as a common pool of computing power which could support regular maximum 40 Hyper-V virtual machines. That is, the platform not only provides a running bed of the new platform (27 servers) but also prepares 13 expansion capabilities.
On the other hand, SYSCOM also proposes rich platform management functions including Virtual Machine Manager 2008 R2 for Hyper-V management, Operation Manager 2007 R2 for resource management, and Configuration Manager for Profile and Patch management (Figure 2). All the three management functionalities are also the fundamental of Microsoft-Cloud management and make it easy to move forward to Microsoft-Cloud Infrastructure.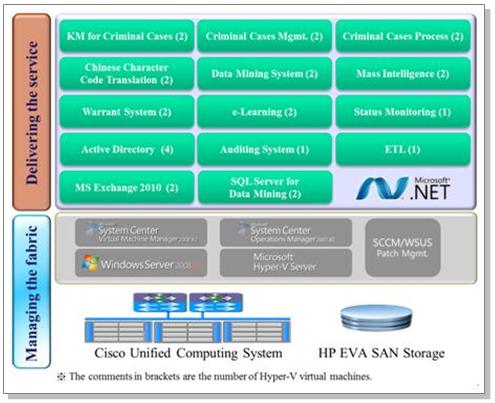 Figure 2: Virtualized Infrastructure via Microsoft Hyper-V
Outcome
The customer highly praises SYSCOM's proposal and Microsoft's Virtualization and Cloud management technologies. By means of virtualization architecture, the business performance is enriched and management consumption is reduced. At the same time, the space and energy requirements are reduced due to consolidation of servers. The customer believes this effective and green implementation must be able to enhance capabilities for Criminal Investigation.
About SYSCOM
Founded in 1975, SYSCOM is Taiwan's leading systems integrator. Headquartered in Taipei, SYSCOM operates service centers in Taiwan, Asia and the Americas. Originally, a peripheral integrator, SYSCOM offers custom integration, outsourcing and cloud solutions to name a few. From On-Line Transaction Processing at the Taiwan Stock Exchange to the first Electronic Data Interchange system for tariffs and trade, SYSCOM proudly continues our industry leading innovation. Today SYSCOM continues serving our domestic and ever increasing international clients. Learn more about SYSCOM at www.syscom.com.tw/english.
.