Home
>
News Center
>
News
News & Events
2010 ASOCIO ICT Summit Generates 16 MOU's and 4.5 Million in Information Security Export Opportunities
[2010/12/7]
[Economic Daily News, by Chou Shu Wen]-The 2010 ASOCIO ICT Summit held by the Information Software Association of the R.O.C. was a success by any measure. Some highlights of the three day event include the signing of 16 cooperation agreements (MOU) by more than ten participating businesses including SYSCOM Computer Engineering Co. (see note 1) and a 4.5 million overseas procurement deal by DECISION Group.
Hsieh Rong Feng, Director of Taiwan's Industrial Development Bureau (IDB), said the event is an important contributor to the exchange of information security knowledge among companies in Taiwan and the global industry.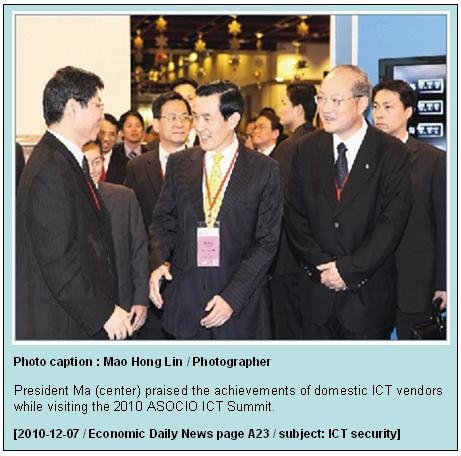 As a motivator for the domestic information security industry to expand their business opportunities, IDB invited ten information security vendors with exporting experience to make up the Information Security section of the 2010 ASOCIO ICT Summit. The summit, organized and hosted by CISA, ran from December 1st to the 3rd with 22 attending countries and over 600 buyers. The Information Security section demonstrated their achievements and products with hopes of getting new contracts and sales that would expand their presence in the Asia-Pacific markets. The ten participating companies were: D-Link, SYSCOM, jrsys, iSecurity, Lionic, Armorize Technologies, Cobrasonic, Sofnet, Chalet Tech, and Decision Group. IDB Director Hsieh said Taiwan's information security market is made of small and mid-sized enterprises, however, in fact, Taiwan information security vendors have significant information security protection experience and good technology for analysis of Internet hacking. It is marketing and branding that fall short. This situation makes it difficult for us to compete with international brands. In Taiwan, personal and mobile information security was codified into law last year. This has brought with it a tremendous amount of new business, yet international marketing capability and practical experience are still needed. To assist these vendors in their quest to expand into global markets, the Taiwan government has proposed an ICT Security Industry Promotion Plan. The plan hopes to use hardware for promoting software and in turn use software to support the hardware sales. Under the plan, we hope Taiwan-based information security vendors will gradually enter the global market.

jrsys Moves Quickly into Mobile Banking
The summit was a special opportunity for jrsys to make connections with the summit's attendees from 22 countries. During the three day event, jrsys signed five NDA's and MOU's with Thailand. Their product, a multi-function strong information security Internet banking solution, is innovative technology in the current global market. jrsys uses chip-based PKI importing for mobile devices to provide this unique solution. This solid technology will enable jrsys to capture the very large mobile banking business of 500 million NT a year in the OTP market. jrsys R&D will benefit from the government's plan with the ultimate goal of increasing product competitiveness.
Decision Group's E-Detective Solutions Shine
Decision Group specializes in research and development of digital identifications and IP packet detection systems. One of the few companies in Taiwan having such advanced technology in this area that is capable of competing with international vendors. As the number of smart phones grows, the market potential for detection of web page authenticity becomes promising. With resource backing of Taiwan's government Decision Group has been able to expand into global markets. The Decision Group's CEO, Chang Kan, said in the coming five years this market for smart phones will grow to one billion NT. In the case that their solution is installed in each of these smart phones Decision Group will see very heavy orders. In fact, Decision Group's E-Detective solution has already chalked up 4.5 million NT in orders from the ASOCIO ICT summit. The group also signed three MOU's with Malaysian companies.
Cobrasonic Seeing Success in International Markets
Cobrasonic, with their DBAegis database monitoring software, is one of the few domestic companies able to provide a solution that monitors internal and external database access. Cobrasonic President Lin Jun Ren said their DBAegis is very competitive against international brands on price and monitoring functionality but the company is mostly unknown outside of Taiwan. The domestic market is not large enough for Cobrasonic to expand their sales channels. By joining this summit they have introduced their products to the 22 countries attending the summit. Several Malaysian and Hong Kong companies have shown interest in their solutions which may lead to future cooperation. Mr. Lin also believes the government's ICT Security Industry Promotion Plan is very helpful for vendors like Cobrasonic.
SYSCOM Lands 4 MOU's (see notes 1 and 3)
SYSCOM (see note 1) exhibited their SOCWay (see note 2) solution which also shined with 4 (see note 3) MOU's. SYSCOM President and also CISA Chairman Liu Jui Long emphasized that the information security and privacy right committee under CISA currently has about 40 information security vendors. Passage of Taiwan's personal information protection law and government incentives for export has helped companies to concentrate on R&D and prepare for joining global markets.
D-Link has over 150 oversea locations and is one of the very few domestic companies able to compete with international vendors. Their UTMFirewallServices solution requires sophisticated technology making the barrier to entry in market very high. Currently D-Link is well-known in the Russian and European markets. The company believes with the new government resources vendors will be better able to improve their own technology to bring local solutions to Taiwan's internationally dominated information security market.
In the past, Taiwan's information security market had insufficient international marketing capability, but 2010 ASOCIO ICT Summit has given us a very good start. CISA and IDB plan to work together for more international exhibitions and marketing activities. The ASOCIO connects local information security vendors with international vendors and which further drives Taiwan's information security vendors into global markets.
List of Corrections. See parenthetical notes 1, 2 and 3 within the article.
Note 1: Originally reported as SYSCOM Technology and SYSCOM Information, the company's correct name is SYSCOM Computer.
Note 2: Originally reported as CS-MARS, the product's correct name is SOCWay.
Note 3: At the 2010 ASOCIO CIT Summit SYSCOM signed 4 MOU's not 6.