Home
>
News Center
>
News
News & Events
Congratulations! SYSCOM Ayuda Robot Wins 2017 Cloud IOT Innovation Champion Award with Its Smart Robot Platform
[2017/12/19] Since the 2016 World Economic Forum (WEF) attendees believed that artificial intelligence (AI) would surface as a core of mankind's fourth industrial revolution and now Mr. Kai-fu Lee, former vice president of Google Global and now Chairman of Sinovation Ventures, said "The era of artificial intelligence (AI) has arrived and there are many human jobs that will be replaced by AI." In fact, society's requirement is a primary reason to push forward with AI. SYSCOM, based on powerful research, has integrated our AI, big data, and in combined with industry know-how and innovative value-added services, we have built a specialized service robot catering to specific industries, economic sectors, and environments that meet customer requirements. Vice President Chen Jianren presented SYSCOM's Smart Robot Platform "Ayuda" with the 2017 Cloud IOT Innovation Champion Award.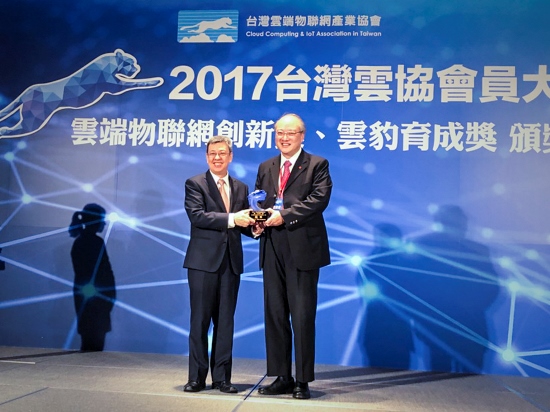 Caption: Taiwan's Vice President Chen Jianren (left) presented SYSCOM's Smart Robot Platform "Ayuda" with the 2017 Cloud IOT Innovation Champion Award to SYSCOM President Mr. James Liu (right).
SYSCOM President Mr. James Liu said, "The birth of Ayuda comes from customer needs. After evaluation, we found that existing robots in this market, their capabilities do not meet customer requirements. We foresee that future robots will not just rely on hardware technology, but becoming smarter is the key to future success. We are investing in robot R&D to provide more comprehensive services to our customers."
SYSCOM's robot research and development is being supported by the public sector including police and other government offices. Our robot has been purchased and is providing services in hospitals and banks. Combining smart robot technology with domain knowledge from police, financial, healthcare and education, our service-oriented robots achieve the goal of assisting existing human resources, what's more we believe future service-based robot will be more intelligent, more networked, more human-like, more digital, and more integrated and this all comes together to provide better smart robot services. Since its first public introduction at the 2017 WCIT, both during the conference and continuing after, SYSCOM's Smart Robot Platform Ayuda has attracted tremendous attention for its beautiful design, facial recognition functions, and conversational capabilities from people around the world.
Ayuda's Smart Robot Platform is 100% Made in Taiwan, integrating robot hardware components, the mobile platform base, and many technologies including: face recognition, human detection, voice recognition, voice conversation, video conferencing, and automatic map learning for navigation to destinations. Ayuda is currently the global leader in its same-class products and its functions are much better than other robots. Ayuda is suitable for many different situations and easily meets the needs of our customers in law enforcement, hospitals and heath care facilities, banks and other financial businesses, and schools and educational settings. SYSCOM is honored to have won the 2017 Cloud IOT Innovation Award Champion and is continuing our efforts to optimize Ayuda's Smart Robot Platform to provide even better services to our customers around the world.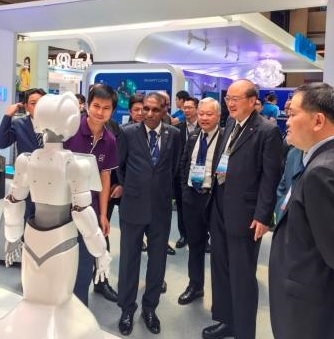 Caption: Ayuda Smart Robot Platform displayed at the 2017 WCIT attracts a lot of attention.
SYSCOM Computer Product Contact: (02) 21916066 x8807 Mr. Lee
News Contact: (02) 21916066 x8044 Miss Yang