Home
>
The SYSCOM Group
>
Affiliates
Affiliates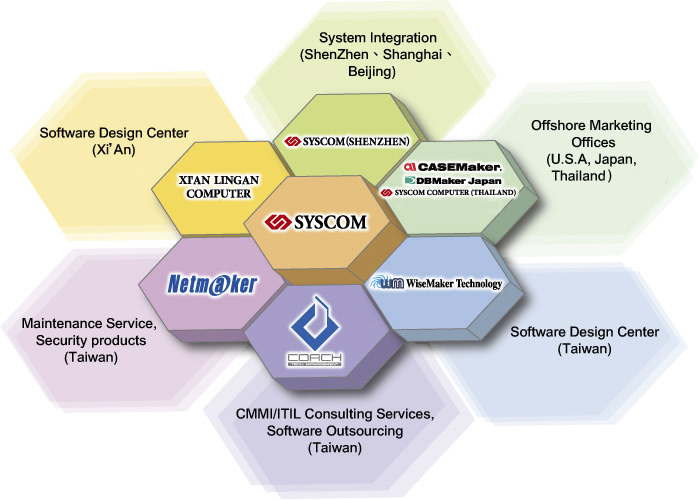 SYSCOM Computer (Shenzhen) Co., Ltd.
Provides system integration, professional consulting, training and education, hardware and software sales and maintenance, e-Commerce, information security and wireless network solutions. Provides responsive service to our customers with dedicated professionals in Beijing, Shanghai and Shenzhen.

Xi'An Lingan Computer Company
Established in 1997, Xi'An Lingan Computer Company locates in Xi'an City in China. Already achieving CMMI Level 3, Xi'An Lingan Computer Company is SYSCOM's global software design center. Services include: software OEM and ODM, software development outsourcing and project development.

Coach Tech. Management Co.
Provides consulting services and educational training primarily focused on CMMI. Coach also offers CMMI outsourcing and consulting. Services include: CMMI/ITIL certification support, software development outsourcing, BS7799 certification support, information center management and security control (ITIL, SOC) and CMMI instructors and information security instructors training.

Netmaker Technology Co.
Established in 2000, Netmaker focuses on hardware sales and maintenance, and information security services. Services include: IT products sales and service, peripheral sales and service, network design, deployment and maintenance, human resource outsourcing, distribution and sales of information security products and IT consumables sales.

WiseMaker Technology Co.
Established in 2000 as a software design center in Taiwan. Services include: software ODM and OEM, human resource outsourcing, project development, electronic document management, public sector and enterprise human resource and payroll solutions.

CASEMaker Inc.
The Syscom Group established its American subsidiary, CASEMaker Inc., in 1990 and it is located in the heart of Silicon Valley. CASEMaker market Syscom products and services worldwide.

DBMaker Japan Inc.
Established in 2002 as SYSCOM's Japanese subsidiary in Tokyo. DBMaker Japan helps promote and sell SYSCOM software products. DBMaker Japan's Services include: SYSCOM software sales, marketing data collection and software OEM and ODM development.

SYSCOM Computer (Thailand) Co., Ltd.
Established in 1998, SYSCOM's Thailand subsidiary provides these services: marketing data collection, system integration, professional IT services and SYSCOM software sales.