Home
>
Products & Services
>
Solutions
Solutions
Industry
NETCenter IT Infrastructure Management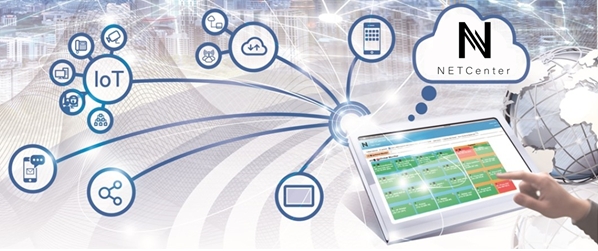 As digital services have changed with time, enterprise IT infrastructure must be combined reliably and flexibly. In this way, enterprises can better face the challenges of network security. "NETCenter IT Infrastructure Management," developed by SYSCOM COMPUTER ENGINEERING Co., is based on our 40 years of system integration experience in combination with our customers' networking experience. With NETCenter, IT managers can fully control their IT infrastructure and see the status and details. NETCenter also increases efficiency of daily maintenance operations. With just a glance at the Dashboard, managers and IT operators can immediately control their IT infrastructure.

NETCenter provides diversified service types for various enterprise models, various budget and network architectures, such as: On-Premise mode and Cloud Supervision mode, like other network management products. Moreover, NETCenter has 15 years of network management experience, as of the officially released NETCenter 4.5 in the end of 2019. NETCenter 4.5 is receiving positive feedback from customers.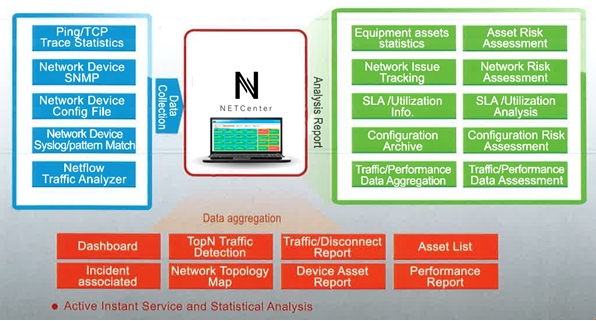 NETCenter provides seven functional modules offering a complete view of IT infrastructure management, for monitoring via various protocols and device attributes.

1.Alert

Allows monitoring for CPU load, memory load, network load, interface throughput, and quality of network transmission. IT managers can analyze performance given NETCenter's raw data. They can also set up alerts based on keywords, interface up/down status, and min/max throughput. IT managers easily monitor line quality, Packet Error, Discard Error and more with Cisco devices. NETCenter provides Ping/TCP foundations to build Task Groups and monitor several hosts. NETCenter helps IT managers monitor networking information in Real Time.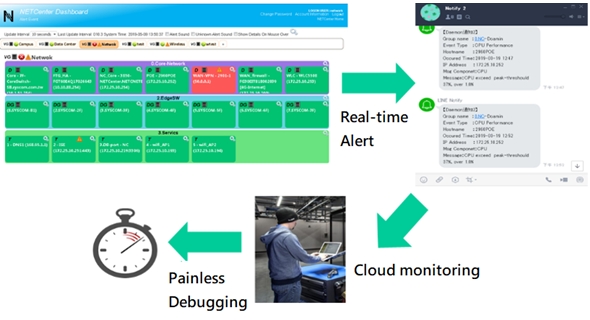 2.Multi-Brand Backup

NETCenter provides command line interface (CLI) backup with telnet or SSH for Multi-brand backups. Using a differential backup system, if anything is different from the time of the previous backup, NETCenter automatically sends an encrypted e-mail highlighting the change so that IT managers can most rapidly recover from disasters with NETCenter's backup information. The backup module provides notification of successful backups and unsuccessful backups. This helps IT managers monitor their backup status.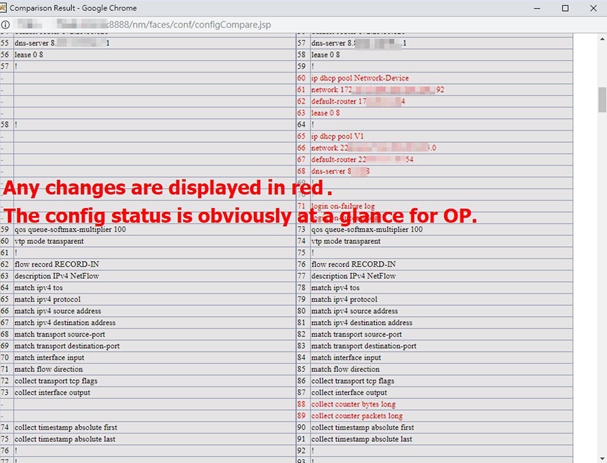 3.Log Record

IT managers can choose cycle mode, date range, single device or group, multiple event level to automatically store the device log file, which is prepared for audits. The node event function can be searched for historical data by customizing keywords, filter conditions, and severity levels to facilitate observation of trends and diagnostic problems. The FTP server data, such as automatically generated reports, audits of the system operation log, and records of user operations, can all be delivered via e-mail.





4.Asset Management

IT managers modify and decentralize equipment's asset levels (A/B/C) to speed up polling time. Users groups are created by the current equipment deployment locations and asset reports are automatically generated. These reports include time of shut down and shut down duration. This helps IT management. NETCenter's asset report provides 13 types of SLA reports, including reports by day, week, month or interface. A full information report helps companies reduce cost of management and monitor networking status.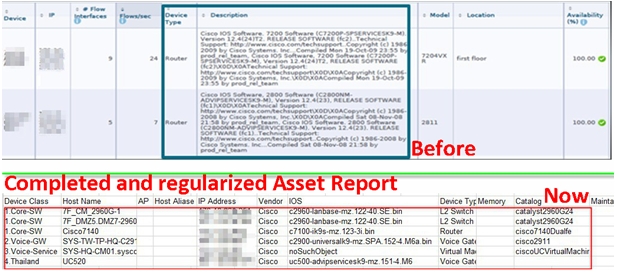 5.Dashboard

NETCenter's Dashboard is designed with red/green lights which helps IT managers or operators monitor status with a glance. When IT managers or operators see a red light, they can double click it to see the event information, including detail of event, service level, and equipment information that is needed for troubleshooting.

The Dashboard can be organized in various ways based on who is using it, like operators, IDC service operators, Server Team SE monitors, and so on. In this way, the Dashboard helps each department access exactly the information they need.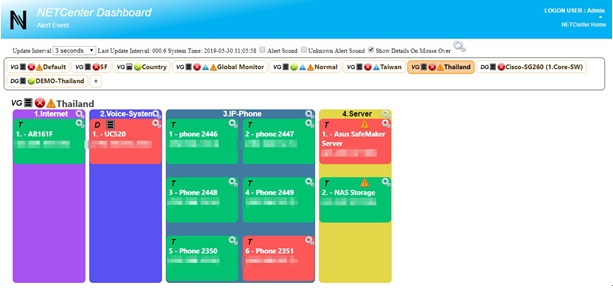 6.Topology

NETCenter can Auto-Discover all managed network equipment and Auto-Outline L2 Topology based on Auto-Discover results.

On Topology maps, colors indicate real-time statuses. User can check the connection status via color changes. User can also check CPU, memory real-time performance, interface status, flow monitoring and alert events on Topology maps.

Supports CDP, LLDP and L2VPN auto-discovery, hierarchically designed NETCenter L2 Topology provides keyword search and equipment maintain mode with Customizable background and Node search.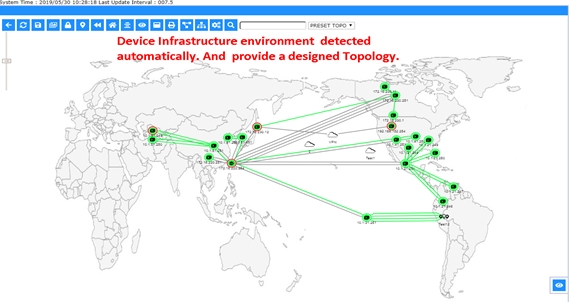 7. Advanced Flow (NetFlow) Analysis Management

Advanced Flow (NetFlow) Analysis Management compares traffic data between interfaces and the total number of packets passing through each node. It also provides packet loss and repeat traffic information that helps users get alerts when the network is unstable.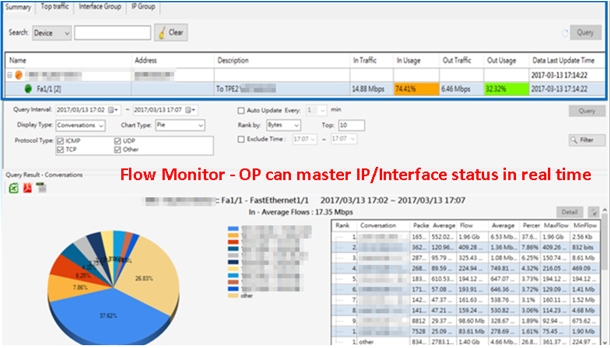 NETCenter's seven functions provide IT managers with immediate management supervisory and control. IT SE often changes among various people. One SE manages a lot of equipment for various brands networking architecture is more and more complex. However, there isn't a networking management tool that is a suitable solution for this situation. Until NETCenter! It provides wired network and wireless network management solutions, which help education centers comprehensively monitor their equipment.

NETCenter effectively reduces workload by means of unified interface, domain differentiation, and decentralized management. Through effective hierarchical management, IT colleagues can work together, and report analysis enable managers to better understand equipment status and audit requirements.

In the government sector, NETCenter provides network system integration pre-sales services, including professional product sales and complete solutions, technical engineering provides professional technology-oriented project management, cross-product technology integration, and helps customers integrate new and old equipment and various brands. The most important maintenance projects, in addition to basic regular maintenance and backups, provide security exercises and maintenance services according to the needs of the unit. According to the IT management manpower requirements, the NETCenter team provides customized services to assist our customers in monitoring their equipment LOG and backup reports, and help new IT personnel understand networking status easily. The NETCenter team works closely as they assist and educated our customers to familiarize themselves with the system.

In the financial sector, NETCenter's simple operating system makes it more efficient to manage all the devices. The Dashboard is flexible and effectively divides the management blocks, constructs a unified NOC operation center, and facilitates the management of branch equipment by various IT personnel with the equipment managed by each branch. The monitoring center can also use the backup tool to schedule backups regularly so that the branches have flexibility and resilience when equipment fails. The convenience we provide is better than other brands.

NETCenter is designed for companies to effectively understand issues and trends and resource allocation through data reporting, thereby increasing IT infrastructure ROI (Return On Investment) and reducing TCO (Total Cost of Ownership) to enhance the competitiveness of the company's overall operations.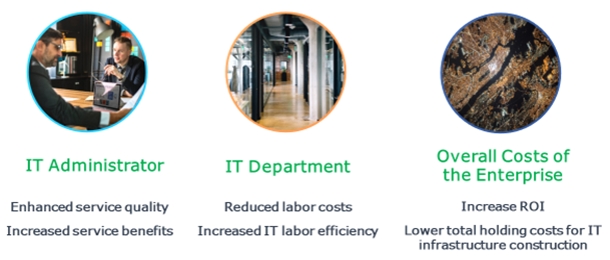 NETCenter Public Sector Reference Site
Ministry of the Interior, Ministry of Justice, Taiwan National Government

NETCenter Private Sector Reference Sites
Chung Hwa Telecom, Taiwan Stock Exchange, Jih Sun Financial Holdings Company, Shang Hai Commercial Bank, Hsin Chuang Farmers' Association, Concord Securities Company, TC Securities Company, Coretronic Group, Kuo Kuang Motor Transport
Ms. Shieh
Phone: (02) 2191-6066 #8870 (international inquiries please dial +886-2-2191-6066 #8870)
Email: iris_shieh@syscom.com.tw