Home
>
News Center
>
News
News & Events
SYSCOM Named Excellent Enterprise Vendor in 2nd Annual Taiwan Mittelstand Award!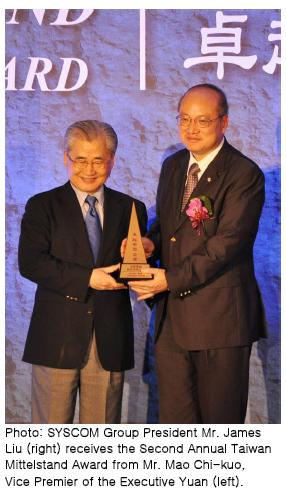 [2014/7/17] On December 27, 2013 the Ministry of Economic Affairs invited a number of industry groups and government representatives to convene the 2nd Annual Conference to select Excellent Enterprise Vendors for the Taiwan Mittelstand Award. SYSCOM and CyberLink were among the ten vendors selected for this award which will be announced in February 2014.

The Excellent Enterprise Vendor Award was established by the Ministry of Economic Affairs of the Republic of China on October 8, 2012 as part of the "Promoting Excellent Enterprises" program. Excellent Enterprise Vendors have a certain scale and a very solid technical base. These vendors have unique technologies and are capable of developing and expanding these technologies within their particular domains as well as being highly competitive in international markets. Vendors must have their principal place of business and domestic production based in Taiwan. Three promotion strategies for the program include construction of solid infrastructure, promotion of growth, and identification of a best practices model. The program sets several goals to be accomplished within three years: to promote over 150 vendors having potential to grow into mid-sized enterprise vendors and then for 30 vendors from the pool to achieve the excellent vendor milestone, to create investments of 34 billion USD along with over 10,000 new jobs.

SYSCOM has been providing advanced and integrated information solutions to customers in finance, telecommunications, health care, e-government and many other corporate and government clients. In recently years, cloud computing has grown in importance and SYSCOM has been devoting resources to cloud computing R&D since 2009. Our cloud computing solutions earn high marks from our users. SYSCOM is honored to be one of Taiwan's leading B2B information service providers.

Two years ago, as part of the "Promoting Excellent Enterprises" program, 256 vendors joined and 74 vendors entered the program's second phase as they worked to become Excellent Enterprise Vendors. SYSCOM was one of the 74, in part due to its vast experience and capabilities. Last year, SYSCOM was awarded the 2nd Annual Taiwan Mittelstand Award because of these outstanding achievements: An average of 13% annual growth over the most recent three years, its self-developed DBMaker database product having over 500,000 users in Japan, and their credit card fraud detection system used in China's financial sector having over 80% market share. Additionally, SYSCOM boosts many more outstanding achievements.

This year SYSCOM was especially honored as being only one of two information service providers among the 10 vendors receiving this award. This reflects the true power of Taiwan's ICT capabilities and its global growth trend. Software vendors and other professional information service providers will be at the forefront of this trend. SYSCOM is one of Taiwan's B2B service providers and an outstanding cloud computing systems integrator. SYSCOM's successes in these areas make it particularly meaningful to be honored with this award.

SYSCOM began in Taiwan almost 40 years, and remains operationally based in Taiwan with corporate headquarters and R&D centers. SYSCOM has steadily expanded globally since the 1990s, to date reaching 17 locations worldwide and through these the SYSCOM Group achieves its objectives. SYSCOM Group President Mr. James Liu, also serving as Chairman of the Republic of China Information Service Industry Association, since 2008 has been committed to the "Taiwan-Japan-China Software New Golden Triangle" model. To this end, SYSCOM in April 2013 inked deals with an important partner in the form of Japan's Tokai Group. Their joint venture, named CloudMaster, is hoping to use strengths of both companies to promote close business cooperation between Taiwan and Japan. Tokai Group, in 2013, was awarded "Software Integration Partner" award by the Ministry of Economic Affairs. Taiwan's hardware and software vendors voted for these three international winners to receive the award because of their efforts and partnerships to enhance the competitiveness of Taiwan's information software and systems integration sector.

After receiving the 2nd Annual Taiwan Mittelstand Award, SYSCOM will continue its professional, dedicated, and comprehensive service to provide even better value to domestic and international clients including the private and public sector. Receiving this award is not just proof of excellence but also a responsibility to meet expectations for continued enhancements and upgrades in all aspects and for objectives that SYSCOM is already hard at work to achieve.