Home
>
News Center
>
News
News & Events
AI Digital Transformation Model Syscom Computer 5G Launch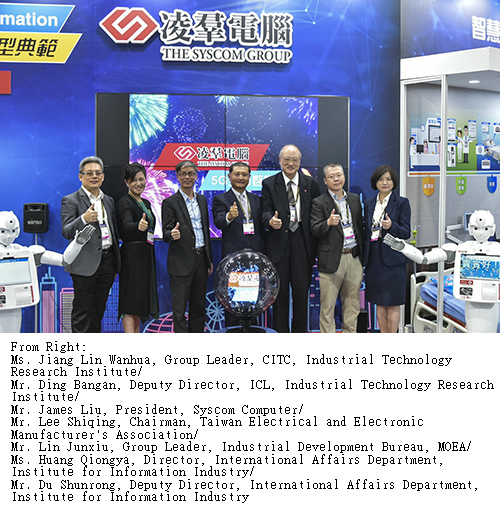 [2020/10/23] Another successful example of post-epidemic offline and online integration at domestic large-scale information and communication exhibitions - "2020 Taiwan International Artificial Intelligence and Internet of Things Exhibition" was held on October 21 to 23, sponsored by the Industrial Development Bureau of the Ministry of Economic Affair's System Integration Office. Syscom Computer's "System Integration Flagship Team" presented at its "Digital Transformation Model Pavilion." Exhibition themes included 5G, AIoT applications, smart healthcare, smart security, startup partners, international partners, and Syscom's self-developed products demonstrating Syscom's digital transformation promotion. On the opening day, the "Syscom 5G Launch" ceremony announced our readiness to welcome "5G's First Year."

Syscom President Mr. James Liu said, "We thank our government for promoting the 5G policy and related construction. Various commercial channels will start operating this year, and Syscom, a system integration vendor, is also ready." Mr. Liu further explained, "Where cabled networks are not possible, 5G is the best solution, with its high bandwidth, density and low-latency features, for example robotic applications."

In recent years, Syscom has been actively developing AIoT-related applications with first-tier manufacturers including HPE and Cisco. Since 2019, we have combined 5G products, working with technologies from international manufacturers and Industrial Technology Research Institute (ITRI), to build a complete "5G-Ready environment" including: private network construction and maintenance, integration of existing IT environments, vertical application development, and diversified solutions. Syscom is committed to developing four areas of 5G: management software and applications, user equipment management, maintenance management, and AIoT applications, which will help 5G application management and promotion, show system integration and software development achievements, and aspire to become a "5G system integration professional manufacturer" to assist enterprises in building the 5G private networks. Using ITRI technologies, Syscom proves to be the best systems integrator as we develop the most advanced vending machines. They were exhibited at the show. These are pioneering a new generation of unmanned stores.

Syscom's many solutions exhibited this year have a deep 5G concept, including the launched fifth-generation intelligent service robot Ayuda Cute. Working with Lianxin Hospital, we jointly exhibited smart healthcare solutions. Syscom's other self-developed solutions included:


DBMaker database system, which has been won the Taiwan Excellence award for many years.



omFlow process engine, which is a "what you see is what you get" tool to quickly design enterprise IT management flows.



VIAMaster, a cross-comparison and analysis tool, which integrates a variety of surveillance equipment image data and uses artificial intelligence algorithms and other technologies to quickly analyze the image data.



NETCenter was developed with years of user experience and will assist in the future 5G management of applications, including information environment monitoring and management tool solutions.
Syscom also invited some of our startup partners to jointly demonstrate their solutions. Syscom and its partners are ready for the 5G-era and we look forward to sharing business opportunities.