Home
>
News Center
>
News
News & Events
Smart Robot Ayuda Upgraded for Epidemic Prevention. Smart Robot Ayuda Monitors Employee Body Temperature and Face Mask Compliance
[2020/5/7] "Fever! Please measure again." "No mask! Please wear a mask." To help curtail an epidemic, Syscom's smart robot Ayuda has been upgraded to measure body temperature and verify face mask compliance. At Syscom headquarters, waiting in line for individual temperature checks is not necessary because Ayuda carefully monitors employees as they pass through the office building's entrance — accelerating the flow of people into the building and greatly reducing human resource requirements.

As the highly infectious COVID-19 arrived, Syscom Computer leveraged its system integration strength, quickly integrating thermal induction scanning with Ayuda to remove accidental personal contact while measuring body temperature. When a person scans over 37.5 degrees, Ayuda sounds an alarm notifying security personnel to re-check body temperature. Syscom combined facial recognition with AI learning so Ayuda recognizes when a passing person is not wearing a mask, and immediately sounds a warning to remind them to wear a mask. This update immediately adds epidemic prevention functions for Ayuda customers.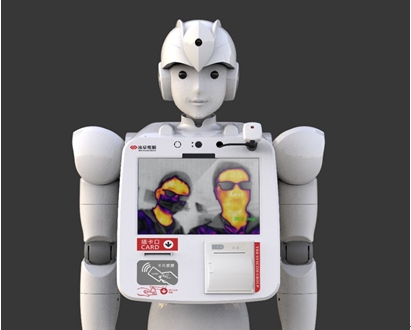 Caption: Syscom's thermal induction scanning technology senses body temperature and quickly displays warnings when a person with temperature over 37.5 degrees walks past. Additional, Ayuda monitors face mask compliance.
Syscom's Ayuda is 100 percent made in Taiwan. Indoor navigation, facial recognition, voice dialogue, ticket printing, remote control, video conferencing, and more make this smart service robot perfectly at home in police stations, banks, hospitals, schools, public spaces, retail spaces, and more. With the location guidance, waiting number ticket printing, marketing promotion functions, and AI big data-based product recommendations, it's a piece of cake for Ayuda to be the best front-line helper on your staff. Ayuda is working in the Japanese market too. In January 2020, a location guidance demonstration was conducted at Fujisawa City Hall in Kanagawa Prefecture. Many Japanese appeared on NHK, Kanagawa TV and Japan Economic News praising Ayuda's performance.
In the midst of the current epidemic, organizations are monitoring temperature and face mask compliance at entry and exit locations. To reduce the workload of frontline personnel, Syscom Computer added temperature measurement and mask monitoring and reminder functions to Ayuda, our smart service robot who cannot be infected by COVID-19. This reduces the infection risk to frontline personnel. Syscom wishes to thank the hard work and dedication of healthcare workers, first-responders, and everybody throughout the country working together to overcome this virus as we all look forward to a quick return to normal life.
Syscom Product Contact: Mr. Lee, 886-2-21916066 ext. 2080