Home
>
News Center
>
News
News & Events
AI, Internet of Things Leader
COMPUTEX 2018, in the World's Top Three Information Expos Begins
Syscom Works with Global Partners to Showcase Cutting-edge Technology Development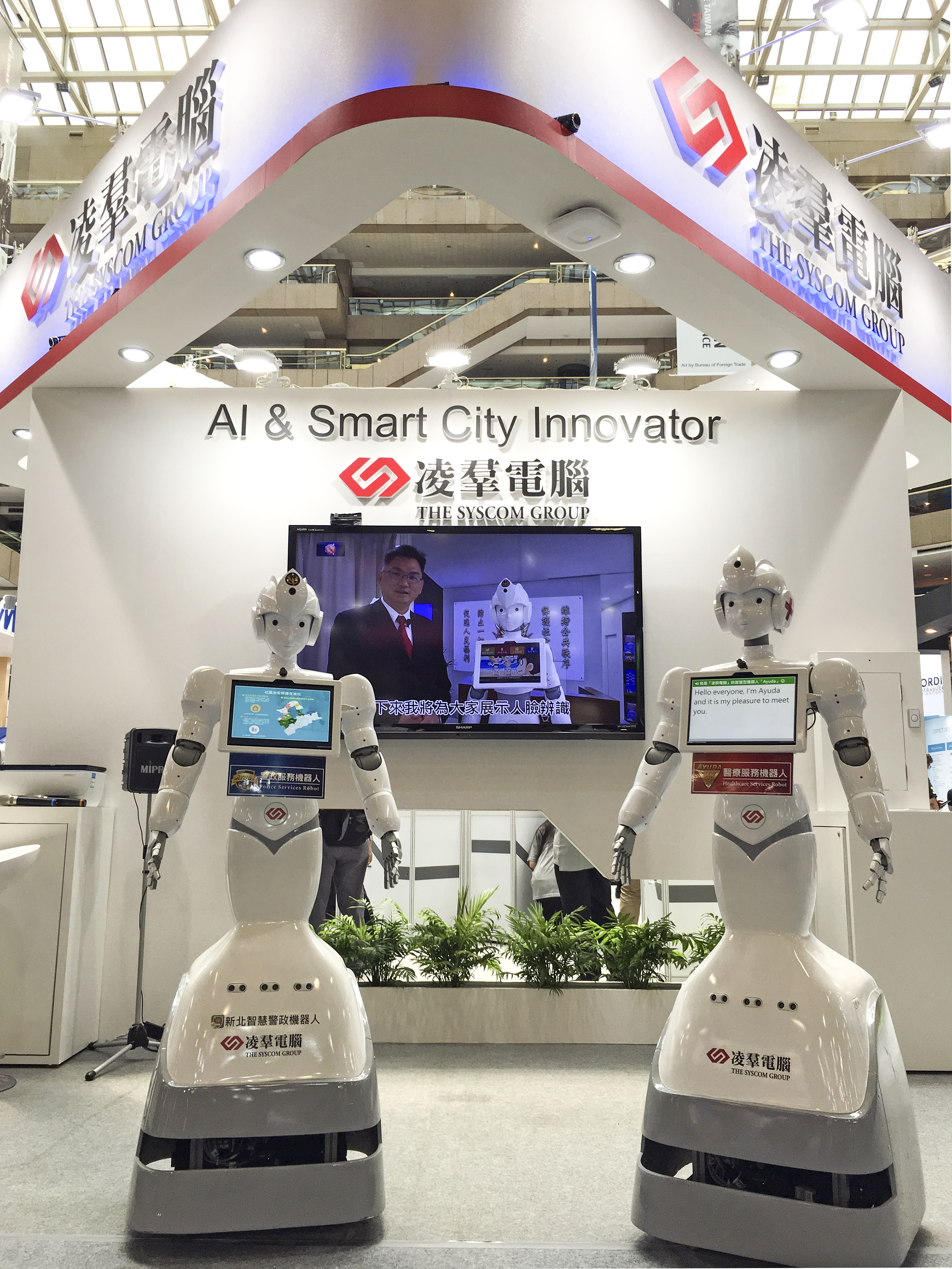 [2018/6/27] Taiwan's annual science and technology industry event, COMPUTEX 2018 finished on June 9.

Syscom, working with our local and global partners displayed in-house AI and IoT solutions.

Syscom focused on in-house developed AI and IoT solutions, including our smart robot AYUDA with artificial intelligence and deep learning functions to map its environment and movement guidance that integrates with existing front-end and back-end systems. Currently, the robot is deployed in policing, finance, healthcare and school environments. It supports case reporting, integrates with banking back-office systems, and integrates with healthcare insurance card readers or school's student ID card readers for student management related applications. Ayuda uses the international standard ROS (Robotic Operating System) development platform which is widely used in the field of robotics, and coupled with Syscom's rich system integration experience, it easily works with other international standards offering tremendous customization potential.

Another exhibit, "Syscom NETCenter IT Infrastructure Management Center," has six monitoring and management modules: alarm management, backup management, event management, report management, dashboard monitoring, and advanced traffic (NetFlow) analysis. The modules give real-time event alerts and detailed data analysis to help IT managers monitor and control IT infrastructure status and resources to reduce daily maintenance workload and identify and solve problems of resource allocation based on the analysis reports.

DBMaker big data database, developed by Syscom has SQL and non-SQL data storage and management capabilities and extends its core data storage system into a decentralized storage infrastructure breaking through limitations of the original relational database. In addition to maintaining the SQL architecture of the original relational database, it provides flexible and dynamic field management, indexing, and processing capabilities to respond to changing data types. Coupled with a plug-in indexing engine, DBMaker easily meets various data requirements in order to strengthen and quickly imports existing external indexing tools. DBMaker has been given Taiwan's Product Excellence Award.

In addition, Syscom invited partner companies from Japan, Brazil, Italy and local Taiwan vendors to participate in the grand event, with more than ten exhibited themes, as follows:

1. JetComm TransCode MCU SERVER by Jet Communication

2. SONOBA COMET Paperless Meeting System by CIJ

3. Smart Energy Solutions by Fuji IT

4. Smart Retailer Solutions by TURN CLOUD TECH

5. Amazon Web Service by TOKAI/CloudMaster

6. Cloud Sales Fieldwork APP by SKYWIND

7. Total Mobile Surveillance Solution by BOVIA

8. Smart City Monitoring and Management Platform by GVD

9. Automatic JAVA Code Generator by ARISE

10. Innovative COBOL Solution by INTERON

11. isCOBOL JAVA Transformer by VERYANT

12. StarFAB- Startup Accelerator. Under the StarFAB banner, the largest start-up accelerator in Taiwan, displayed a different solution each day of the expo:
. 6/5 ViWave Technology: WuKong Day Care solution
. 6/6 InfinitiesSoft Solution: AI and Big Data Change the future
. 6/7 Sightour: OmiCam, Wearable VR camera
. 6/8 Coolso Technology: Advanced XR Controller for VR and AR
. 6/9 WASAI Technology: AI/Big Data/Genomics acceleration IC solution

Syscom and our partners showcased for international markets some of Taiwan's IT research and development power at COMPUTEX 2018.