Home
>
News Center
>
News
News & Events
At WCIT 2017 SYSCOM Robot Well-Received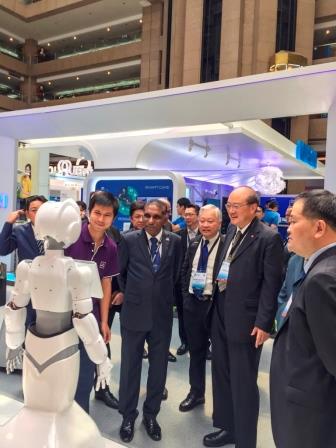 [2017/10/24] WCIT2017 (World Congress Information Technology), with more than 2,500 global business leaders from more than 80 countries around the world, has safely successfully concluded just before Typhoon Terry hit. The exhibition, in addition to the very popular SYSCOM police service robots which attracted many eyes, representatives from Veryant of Italy expressed their pleasure in joining SYSCOM at WCIT2017 to showcase their solutions. Partners from Japan also participated, including TOKAI, Arise, and others, who were all quite satisfied with the exhibition.

Ayuda, the police robot on display, uses deep learning and facial recognition for better communication as it talked to people while guiding them to locations around the exhibition floor. Policeman are available for video communication via Ayuda's touchpad. In addition to launching the police service robot, SYSCOM introduced Ayuda to the Hualien National Military Hospital where she guides visitors to hospital resources and provides helpful information to their queries. Coming soon, SYSCOM will be providing similar robot services to the financial sector. SYSCOM is thrilled by the highly successful IT system integration that we have built into Ayuda. Conference attendees, mostly visiting from overseas, took every opportunity to snap pictures with Ayuda.

Among our partner exhibitors, the well-known Italian system integrator Veryant is also the country's DBMaker database distributor. Veryant also develops their own solutions including a code generator development tool. At WCIT2017, Veryant showed off isCOBOL, their COBOL/Java integration development tool. isCOBOL injects JAVA's powerful functionality and flexibility into existing COBOL programs. Veryant's expectations to showcase their solutions to a broad international IT audience at WCIT2017 were met in all ways and by the end of the conference the company expressed their positive impression of Taiwan.

TOKAI, the leading IDC service provider in eastern Japan including Tokyo, had a major presence at WCIT2017. Cloud service "ATHELAS" was on display for overseas visitors. The JFT / SaaS (ATHELAS) data exchange solution is perfect for those looking to do business with Japanese companies. These overseas companies don't need to build their own tools. Using automatic electronic data exchange, Internet-based ATHELAS solves problems that arise during ordering, delivery, and bank remittance while connecting to TOKAI services. The ATHELAS services use a unique XML and character code conversion to achieve the data exchange. Currently, TOKAI is providing ATHELAS services to businesses in nine countries, including Taiwan.

During this exhibition, vendors were happy to discover many new business opportunities, collaboration possibilities, and solutions. As Typhoon Terry leaves Taiwan, WCIT2017 come to an end. Attendees packed their bags and participants broke-down their booths, having learned and experienced new things everybody returning home ready for a bit of rest. WCIT2017's influence will continue for some time to come.