Home
>
News Center
>
News
News & Events
Syscom Attends the Taiwan Smart Healthcare Solutions Event in Bangkok, Thailand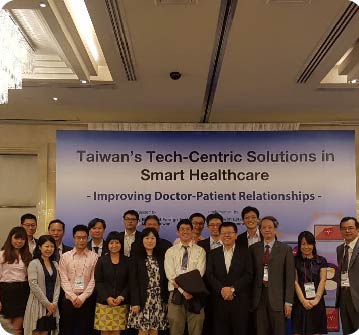 [2017/4/5] Syscom participates in the Taiwan Smart Healthcare Solutions Event, sponsored by the Taiwan External Trade Development Council's trade association, along with seven other smart healthcare solution providers and medical equipment manufacturers from March 7 through the 10th in Bangkok, Thailand. During the event, the trade association visited local medical service providers and collected valuable feedback. Additionally, Mr. Xu, Syscom's Southeast Asia General Manager accompanied by personal from Syscom's local Thailand office, active in Thailand for nearly two decades, introduced Syscom's healthcare solution experience to the Thai market. Syscom Thailand has many well-known customers including the Siam Commercial Bank (SCB), the Agricultural Bank of China (BAAC), and CIMB, allowing us to build confidence with new healthcare clients.

After the meeting, the trade association visited the flagship Bangkok Hospital owned by Thailand's largest medical group, BDMS. On another visit, the association saw first-class treatment of diabetes at Theptarin Hospital. General Manager Xu shared some of his experience with hospital computerization in Taiwan with Theptarin Hospital's founder Dr. Thep Chairman and Director Ms. Tanya. Dr. Thep said their existing hospital information system was purchased from Japan and South Korea more than 10 years ago and they will consider healthcare solutions from Taiwan for future purchases. CEO of Kluay Nam Thai Hospital, Mr. Sranyoo, added that its group covers not only medical solutions but also education, livelihood services and business services, so any Taiwan solutions are welcome.

The final stop on their visit was the Thai Ministry of Health, Syscom Thailand Director Li Zhide, presented in Thai to Ministry of Health officials and public hospitals representatives, introducing Syscom's eHealthcare Solution. After the presentation, attendees expressed strong interest in Taiwan's medical Information system integration successes and had further detailed discussions with Syscom Thailand team members. Following the Taiwan government's south-bound policy, Syscom will market smart healthcare solutions to Thailand. The Thai medical e-market, still in its infancy, holds much promise.