SYSCOM Computer ISO Information Services and Information Security Certified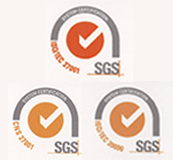 As the use of information applications and the Internet surge in popularity, information security issues are an increasingly serious concern. SYSCOM, Taiwan's leading systems integrator, focuses tremendous effort on information security and has enhanced our service quality and capabilities to better help customers establish secure, comprehensive, and productive information security environments. In achieve this, SYSCOM has been certified ISO/IEC 20000-1: 2011 and the International Standard for Information Security ISO27001 in 2015 and in 2016 we added more certifications: ISO/IEC 27001: 2013 and CNS 27001: 2014. Through these certifications, SYSCOM built and improved our information security practices and systems, strengthened our security protection, reduced our operational risks, to provide reliable services to our customers.

These international certifications allow SYSCOM provide customers with reliable, comprehensive and productive information security solutions and assist them in more easily achieving their own certification goals and reducing risks to their information security environment. Customers trust SYSCOM information security solutions. SYSCOM continues to improve our overall service quality and customer satisfaction.