Home
>
News Center
>
News
News & Events
Witness the Development of Taiwan's Information Services Industry SYSCOM Group Celebrates 40th Anniversary
[2015/6/12]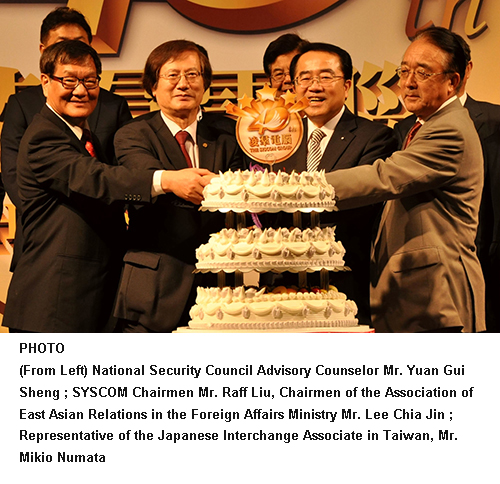 SYSCOM Group (2453) On Friday, June 5, 2015 held a grand reception in celebration of its 40th anniversary. Many guests from government, domestic companies, and overseas partners joined in the celebratory festivities to honor SYSCOM's long history of achievements. The event culminated with a huge birthday cake encircled by Raff Liu, SYSCOM's Chairman; Yuan Gui Sheng, from the National Security Council Advisory Committee; Lee Chia Jin, Chairman of the Association of East Asian Relations; Lu Zheng Hua, Deputy Director of Taiwan's Industrial Development Bureau; and Numata Mikio, Representative from the Japan Interchange Association of Taiwan. Together the gentlemen carved the 40th anniversary birthday cake. 
SYSCOM Group was founded in 1975, "SYSCOM group was not only involved in Taiwan's economic development, we also witnessed Taiwan's economic miracle," said Chairman Raff Liu. SYSCOM has been involved in major domestic information infrastructure projects, including: e-government, customs automation, bus terminal hub transportation systems, public safety cloud information systems, and the Formosa satellite ground control systems. These achievements have left an indelible trail showing the SYSCOM Group's devotion to excellence and its ever progressing systems integration development.
For 40 years, SYSCOM has growth hand-in-hand with Taiwan's systems integration industry, from computer-based automation to building out network infrastructure, and now it's focused on the mobile space and cloud services. With professionalism and high quality being our core competitive advantages, we have moved into international markets and established ourselves in China where our information service expertise earned us the coveted "High-Tech Enterprise" certification granted by that country's high-tech industry. Additionally, SYSCOM works with major Japanese software companies pioneering the "Taiwan, Japan, China" new Golden Triangle model for providing global customers with the best professional information services. At Friday's event, SYSCOM Group Chairman Liu expressed special thanks and appreciation to the many Japanese guests, public officials, and partners who attended the anniversary celebration. The strong showing by our new Golden Triangle partners under the promotional direction of the government's Industrial Development Bureau shows the strength of SYSCOM's partnerships.
"We will not stop developing and competing in information technology" promised Liu. In the future, SYSCOM is moving to cloud technology, big data, mobilization, and smart city application development. From the public clouds, private clouds and mixed clouds, we are building big data applications and analysis services, healthcare solutions, smart city and intelligent transportation solutions. Looking ahead, Chairman Liu said, "We will continue our efforts to become the industry's benchmark model of cross-strait information services while growing together with our customers creating win-win situations."
SYSCOM Group News Contact: Victoria Yang
Tel: (02) 21916066 ext. 8044